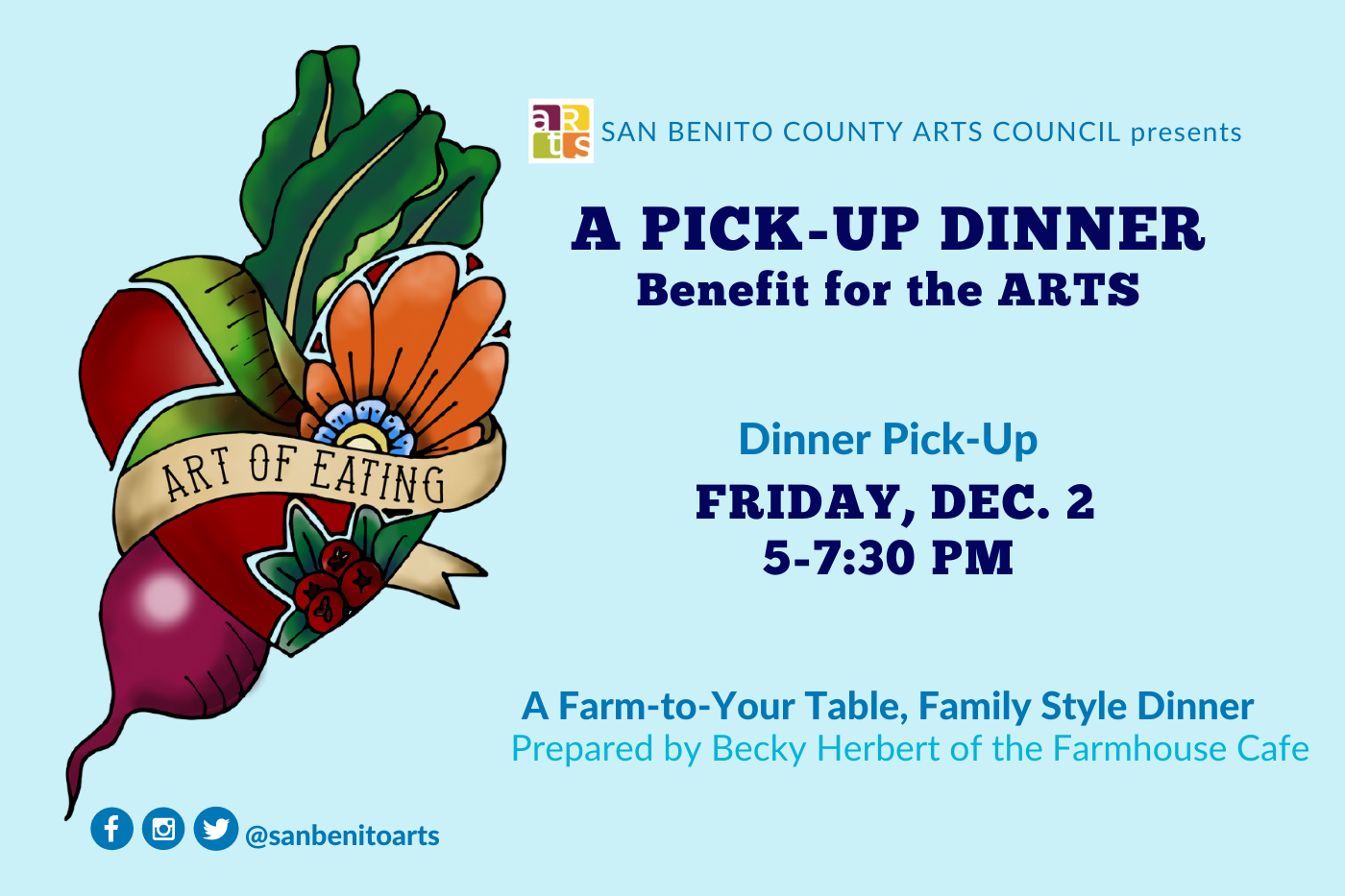 The San Benito County Arts Council proudly presents a winter Art of Eating: Pick-Up Dinner Benefit for the Arts . This farm to your table event will consist of a family style, pick-up dinner prepared by local chef Becky Herbert of the Farmhouse Café. The winter themed dinner features locally-sourced, organic food and produce and will be available for pick-up at The Art Depot, 35 5th St., Suite D, located in the historic train depot in downtown Hollister from 5:00-7:30 pm, Friday, Dec. 2nd.
All proceeds from this event support our Arts in Education Programs, serving over 6,000 students in San Benito County schools. Your support is an investment in our community's youth and their future!
Dinner Pick-Up Tickets are $50/dinner for 2 or $100/dinner for 4. Tickets must be pre-purchased and sales close end of the day on Nov. 27th. *Vegan dinner option available.
The Pick-Up Dinner Menu:
Roasted Butternut Squash & Spinach Salad Phil Foster's butternut squash is roasted with maple syrup and spices and served over a bed of bloomsdale spinach with pomegranate, pickled red onion and a champagne vinaigrette
Root Vegetable Cobbler (vegan) Phil Foster & Coke Farms rutabaga, potatoes, carrots and onion are simmered together with mushrooms and herbs then baked with a gluten free cheddar biscuit crust until golden brown
Beef Stew Cobbler local grassfed beef stew meat is slow cooked with parsnip, carrot, potato and onion in a red wine-infused beef broth until tender then baked with a gluten free cheddar biscuit crust until golden brown
Sourdough Dinner Rolls from Panorama Bakery in San Francisco
*All meals include a sweet treat and a special gift made by a local artist!
The Art of Eating: Pick-Up Meal is part of the Arts Council's end of year Art of Giving campaign to raise funds in support of Arts in Education Programs. Other Art of Giving events include the Small Works Exhibition & Art Giveaway Fundraiser, also at The Art Depot on Dec. 2nd, and #GivingTuesday, Nov. 29th. All proceeds from these events will support visual and performing arts Arts in Education Programs serving San Benito County students grades TK-8.
Contact the Arts Council at info@sanbenitoarts.org for more info.