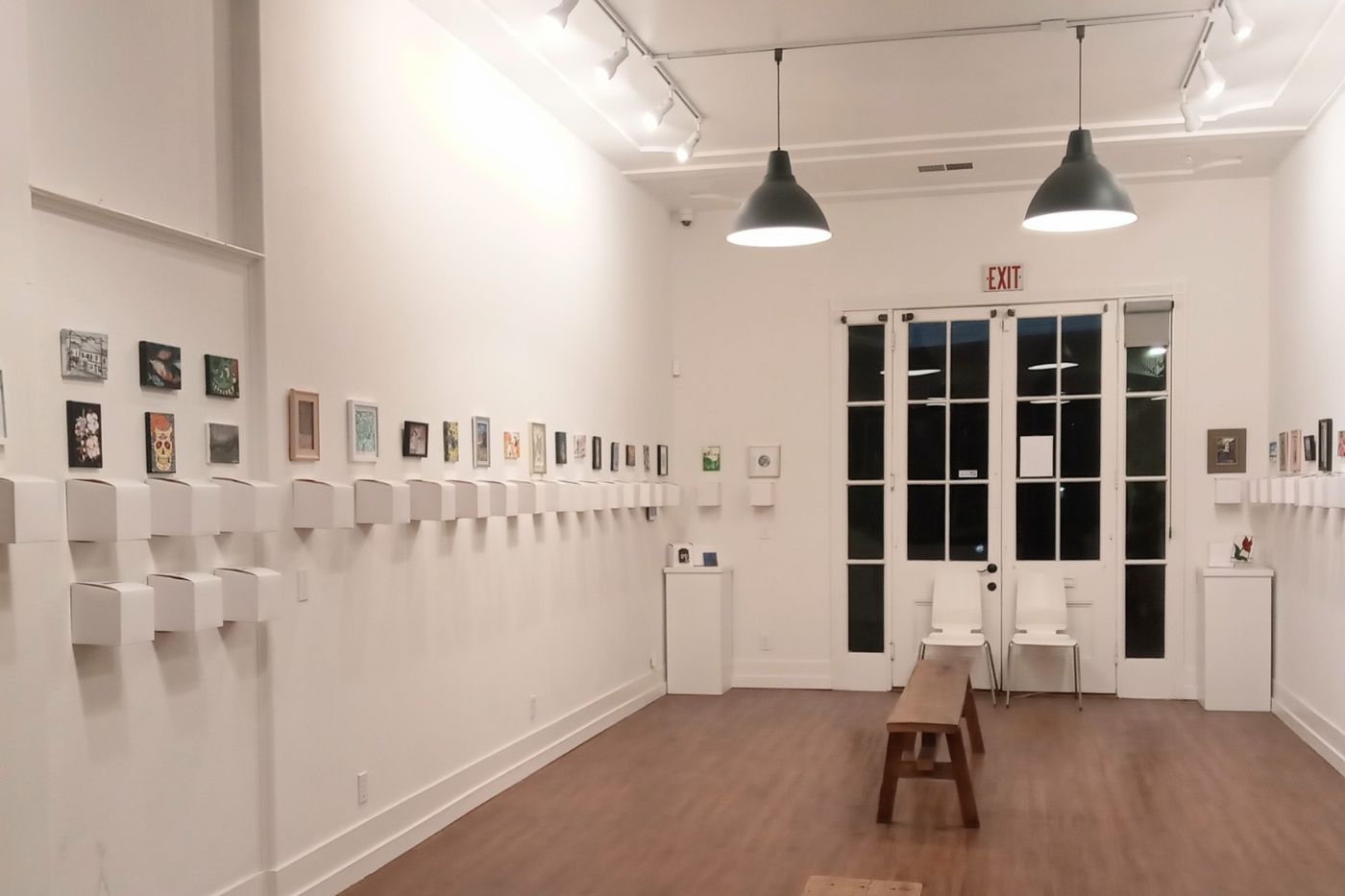 It's time again for our annual Small Works Art Show & Giveaway.
We invite the community to join us for one of our favorite events of the year! Our 2023 Small Works Art Show celebration will take place on Friday, Dec. 1st, 5:30-7:30 pm at The Art Depot located at 35 5th St., Ste D in the historic train depot in downtown Hollister. This is an opportunity to meet professional & emerging local artists, win an original piece of art, and view our newest exhibition.
SEE the art at the online gallery.
The Small Works exhibition features original artworks, no larger than 7″x9″, created and donated by local artists and includes paintings, ceramics, jewelry, prints & more.
In addition to viewing the work, supporters and art lovers can win a piece of exhibition art by making a donation and selecting the artwork(s) of their choice. For every $5 donation, donors will be entered into a drawing to win one of their favorite pieces.
*The donate to win component of our Small Works Art Show is now closed.
Winners will be announced the week of Dec. 4th, just in time for the holidays. Supporters can also view the art and enter the giveaway at the online exhibition page which will be announced soon. To make other arrangements for in-person viewing email heidi@sanbenitoarts.org.
Small Works Participating: Christine Breen, Kati D'Amore, Dan Campos, Rubén Darío Villa, Allison Barnes, Makayla Magdaleno, Clay Peer, Becky Bonner, Mazzy Duran, Coco Pres, Brian Lucas, Nicole Maican, Louise Roy, Dar Brenneise, Sarah Griss, Julian Torres, Danae Parra, Glynis Crabb, Francesca Damkar, Alissa Lund, Keith Bonner, Constance Gallo, Katherine Filice, Michael Ballen, Jennifer Colby, Kent Child, Kathleen Sheridan, David Ramirez, Donna Lopez, Eli Garcia, Karen Percival, Sue Everitt, Aseneth Quaid, Wendi Reed, Andrea McCann, Monica Shearer, Dylan Sandstrom
More about Small Works
The Small Works exhibition is part of the Arts Council's end of year Art of Giving campaign raising funds in support of arts programs for local youth. Other Art of Giving events include the Art of Eating: Pick-Up Dinner for the Arts, also taking place at the Art Depot on Dec. 1st.
All proceeds from these events will be used to Arts Council Arts Programs & Initiatives serving San Benito County youth & adults.
The Arts Council would like to thank this year's participating artists for their generous donation of artworks and continued support of Arts in Education Programs.
For more information, please contact the San Benito County Arts Council at heidi@sanbenitoarts.org or visit www.sanbenitoarts.org.