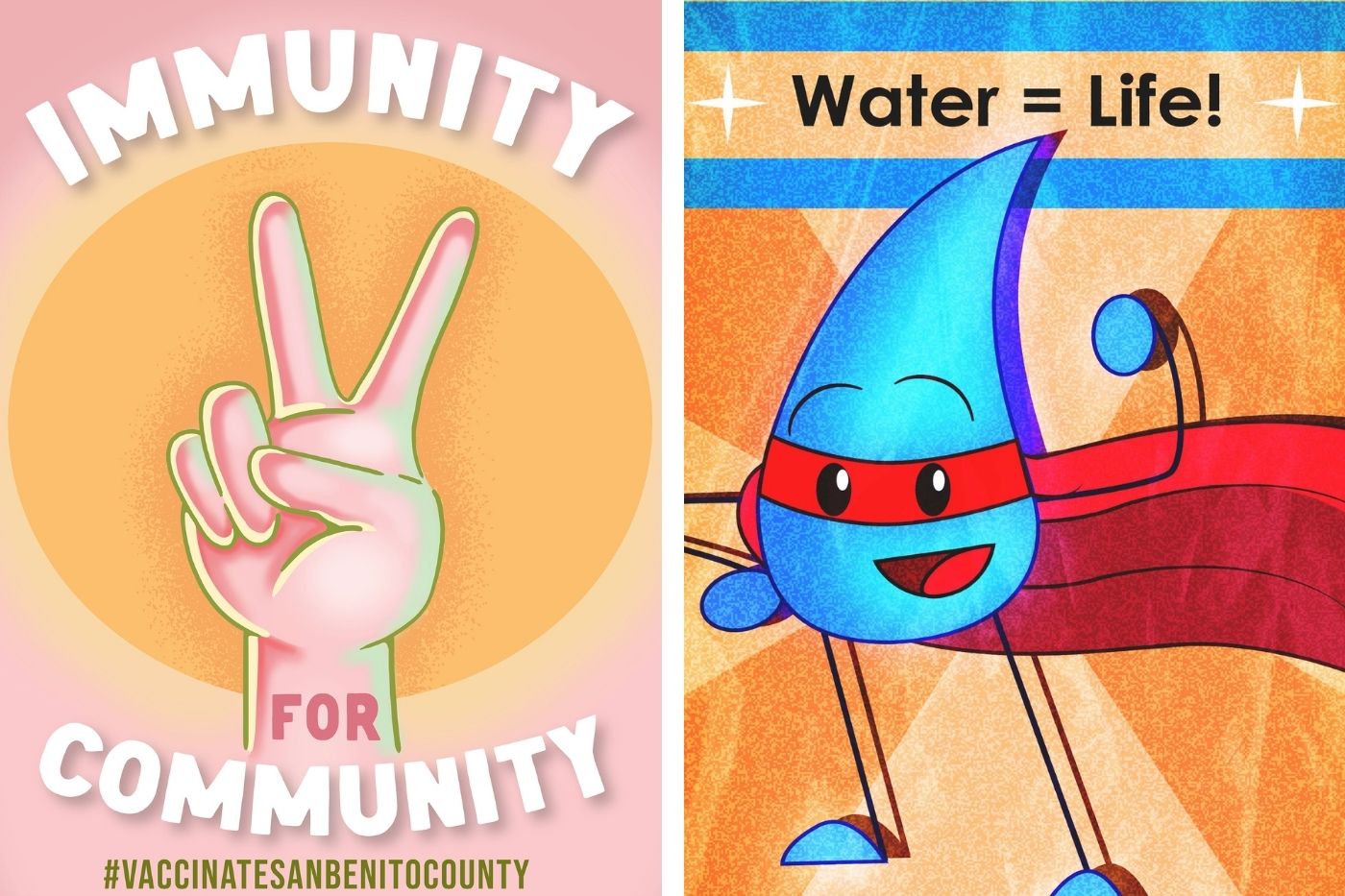 The San Benito County Arts Council has just launched two artist-designed outreach campaigns as part of the ART in TRANSIT Project.
In collaboration with the Community Foundation for San Benito County, County of San Benito, Council of San Benito Governments and the Water Resources Association San Benito County, we've commissioned 6 artists to create poster designs for 2 countywide, collaborative outreach campaigns, focusing on vaccine education and water conservation, as part of our ART in TRANSIT Project.
The goal of the first campaign, the "Immunity for Community" vaccine poster project, is to build trust in the safety and efficacy of the COVID vaccine; to combat vaccine misinformation and to sustain momentum in our County's efforts to vaccinate a substantial portion of our population against COVID-19.  The 3 artists selected for the vaccine campaign, each receiving a $500 stipend as part of their award, include: Venecia Prudencio, Jasmine Montes de Oca and Bryan West.
COVID-19 vaccines are safe, effective, free and the most important tool to end the pandemic. Visit the San Benito County Health and Human Service Agency for COVID-19 vaccine information.
The second campaign, the "Water=Life" water awareness & conservation poster project, focuses on key messages and themes to promote water awareness; build water resilience and encourage personal and collective water conservation.  The 3 artists who were selected for the water campaign, also receiving a $500 stipend each, include: Ashton Jumper, Cindy Couling and Francesca Damkar.
Visit the Water Resources Association San Benito County (W.R.A.S.B.C) for water conservation guidelines and to learn more about current drought conditions.
The artist-designed posters, will be displayed in county bus shelters, buses and other public building, storefronts and high-visibility areas. Posters are available in English and Spanish. Business owners who are interested to be a part of these campaigns and would like to receive a copy of the posters for public display in their businesses and storefronts may contact the Arts Council at 831.636.2787 or at info@sanbenitoarts.org.
For questions or more information please contact the Arts Council at info@sanbenitoarts.org or call at (831) 636-2787.