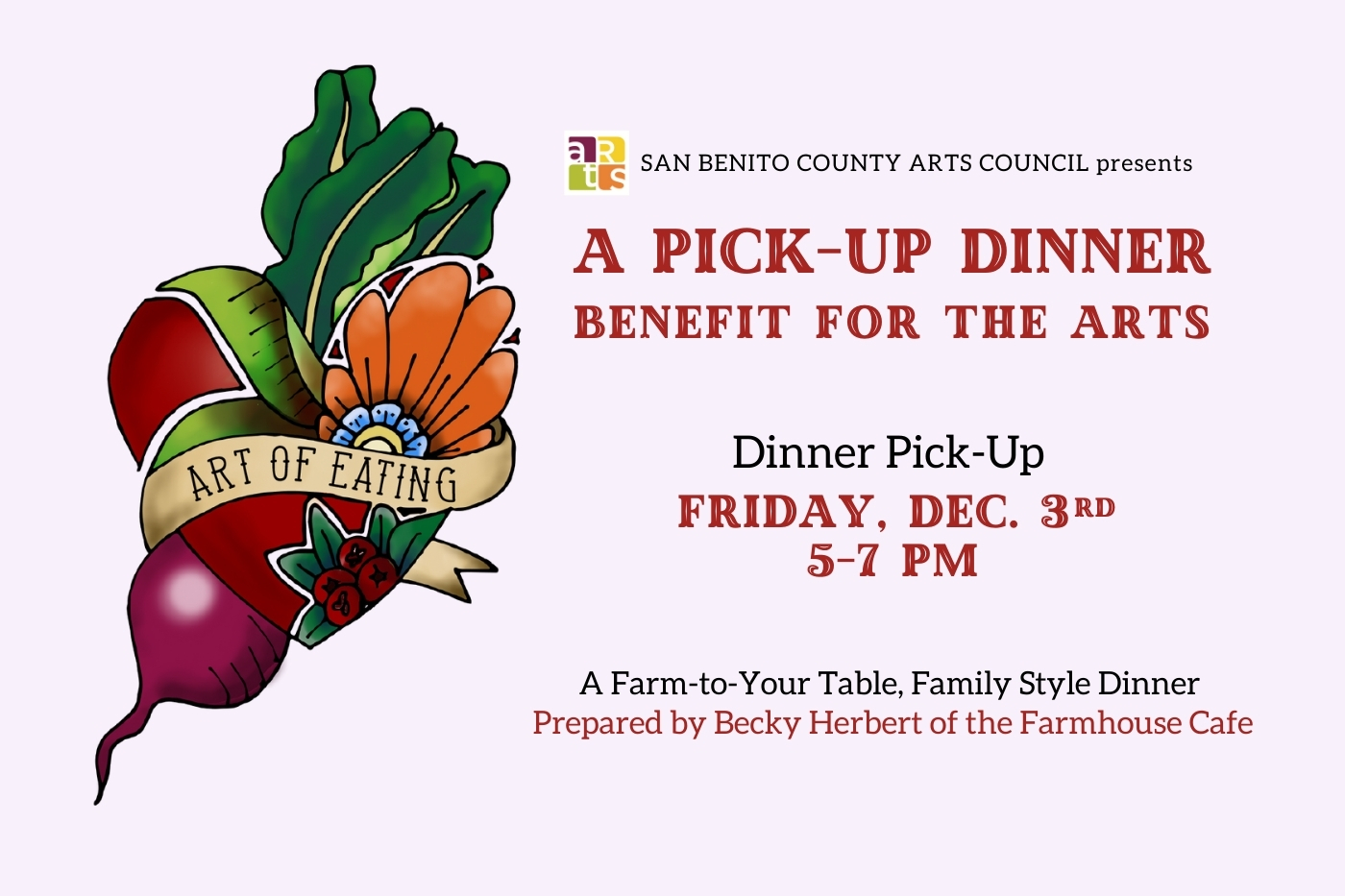 Join us for this farm to your table, pick-up dinner event!
The San Benito County Arts Council proudly presents a holiday time Art of Eating: Pick-Up Dinner Benefit for the Arts happening on Friday, Dec. 3rd.  This farm to your table event will consist of a family style, pick-up dinner prepared by local chef Becky Herbert of the Farmhouse Café.
This winter themed dinner features locally-sourced, organic food and produce and will be available for pick-up at the NEW Art Depot, 35 5th St., Suite D, in downtown Hollister from 5-7 pm on Friday, Dec. 3rd. A vegan option is available.
Dinner tickets are limited and are $50/dinner for 2 or $100/ dinner for 4. Tickets sales end Nov. 28th and must be purchased prior to the event.
The Pick-Up Dinner Menu:
Spinach Salad with Roasted Butternut Squash, Pickled Red Onion & Cranberry Roasted butternut squash is tossed with pickled red onion, cranberry and feta cheese and drizzled with apple cider vinaigrette. Served over a bed of Spinach.
Becky's Holiday Stew Paicines Ranch Italian pork sausage, spaghetti squash, vegetables, tomato-based chicken broth with Italian spices.
Moroccan Vegetable Stew (vegan option) seasonal vegetables and chickpeas simmered in a broth infused with harissa, coriander, cinnamon, turmeric and dried apricots. Served with a side of couscous.
Dinner Rolls made with organic flour.
Dessert special chocolate treat.
Other events happening at the Art Depot on Dec. 3rd included our Small Works Exhibition & Open House.
All proceeds from these events support our arts & healing focused Arts in Education Programs, serving over 6,000 students in San Benito County schools. Your support is an investment in our community's youth and their future!
Please email info@sanbenitoarts.org for more information.