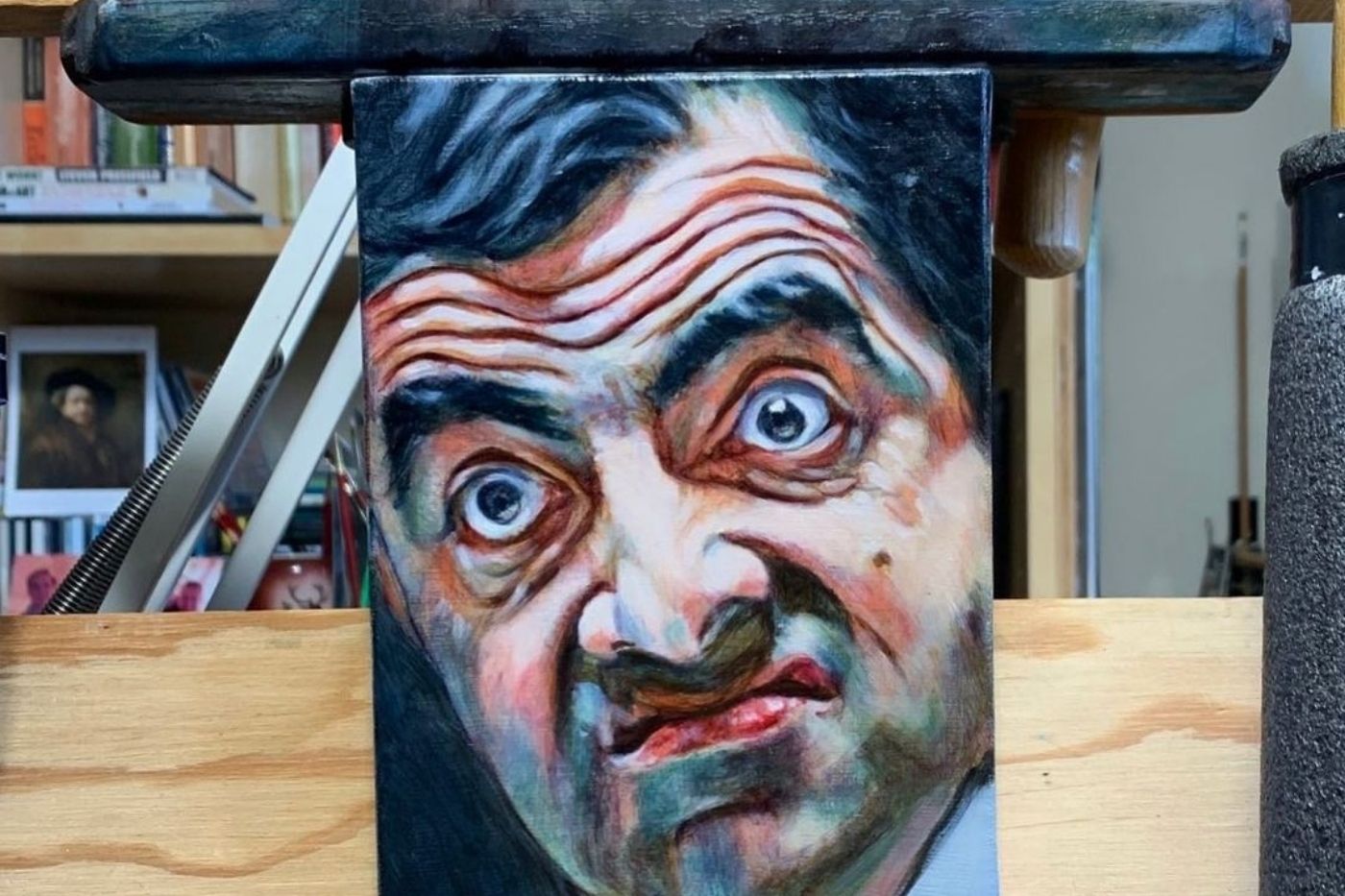 *Featured oil painting by Small Works artist, Dan Campos.
We invite the community to attend our in-person Small Works Exhibition & Open House from 5-7 PM on Fri., Dec. 3rd at the NEW Art Depot, 35 5th St., Suite D, located in the historic Train Depot in downtown Hollister.
Preview the exhibition's art in the online gallery.
The Small Works Exhibition & Open House is an opportunity to meet local artists, win an original piece of art, and see our NEW exhibition and community classroom space. Beer tasting will be provided by Brewery Twenty Five.
The Small Works exhibition features original artworks, no larger than 7″x9″, created and donated by over 30 local artists and includes paintings, ceramics, jewelry, prints & more.
In addition to viewing the work, supporters and art lovers can win a piece of art by making a donation and selecting the artwork(s) of their choice. For every $5 donation, donors will be entered into a drawing to win one of their favorite pieces. Winners will be announced the week of Dec. 6, just in time for the holidays. Supporters can also view the art and donate for a chance to win on the online exhibition page launching prior to the event. To make other arrangements for in-person viewing email heidi@sanbenitoarts.org.
The Small Works Exhibition & Art Giveaway is part of the Arts Council's end of year Art of Giving campaign raising funds in support of arts programs for local youth.
Other Art of Giving events include the Art of Eating: Pick-Up Dinner for the Arts, also taking place at the Art Depot on Dec. 3, and #GivingTuesday, Nov. 30.
All proceeds from these events will be used to support art and healing focused Arts in Education Programs serving students enrolled in Hollister, San Juan Bautista, and Aromas schools.
The Arts Council would like to thank this year's participating artists for their generous donation of artworks and continued support of Arts in Education Programs.
2021 Small Works Artists include:
Trudi Burney, Kathleen Sheridan, Sally Diggory, Julianna O'Hara, Ana Newman, Glynis Crabb, Cindy Couling, Keith Bonner, Danae Parra, Clay Peer, Linda Jan Wynne, Dylan Sandstrom, Heidi Jumper, Adam Valentino, Andrea McCann, Sylas Jumper, Allison Barnes, Kent Child, Louise Roy, Stephanie Skow, Dar Brenneise, Kati D'Amore, Judith Ogus, Nicole Maican, Gabriel Rios, Donna Lopez, Sadashiv Phadnis, Dan Campos, Michaela Graves, Ashton Jumper, Barbara Scoles, Connie Gianotti, Sarah Sendejas, Laurie Tholen, Stacy Koontz, Rhoda Bloom, Claudia Harden, Jasmin Escobar
Event Sponsor: Brewery Twenty Five
For more information, please contact the San Benito County Arts Council at heidi@sanbenitoarts.org.