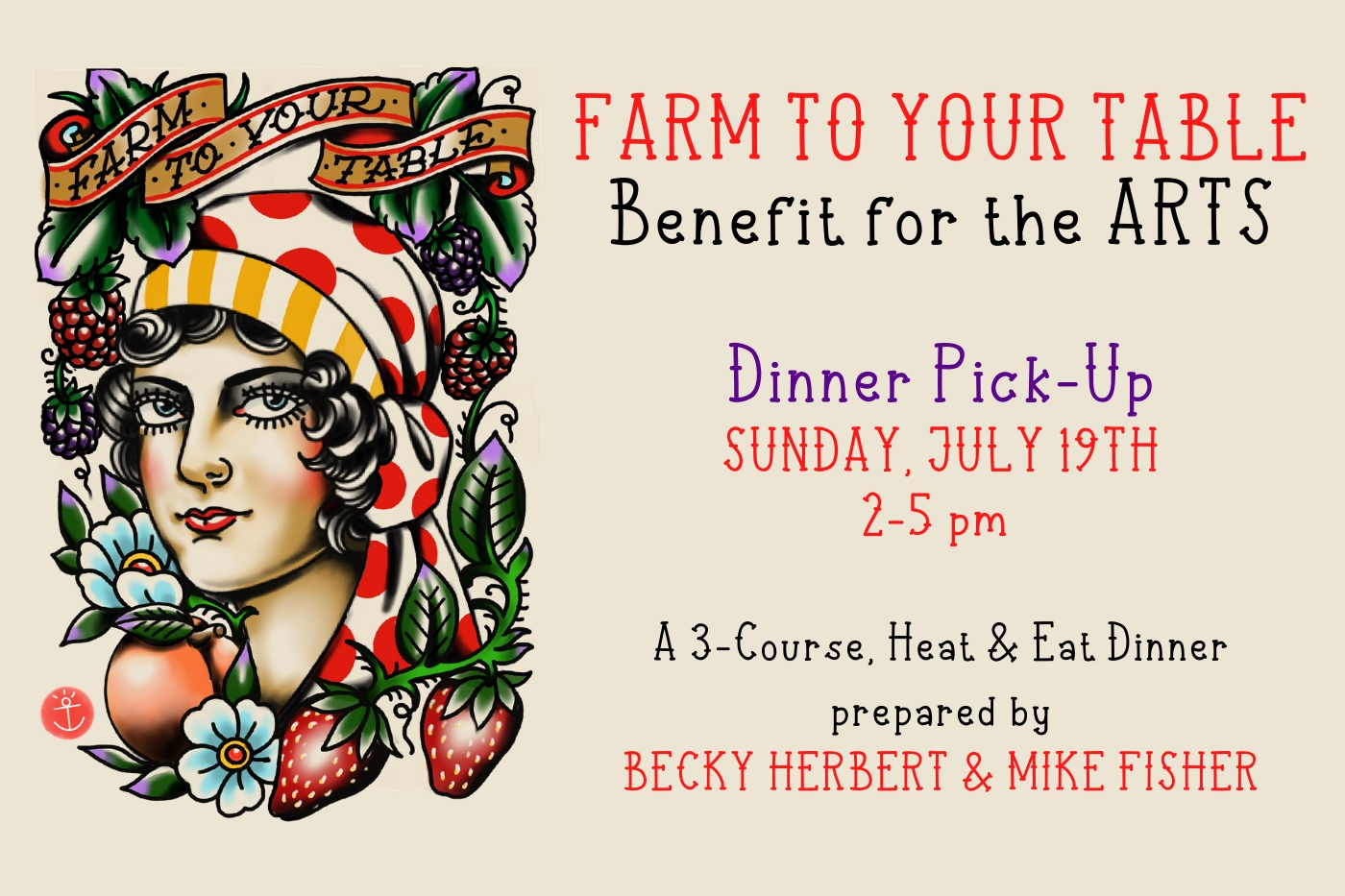 Thank you for your support! This event has SOLD OUT.
The San Benito County Arts Council proudly presents its fourth annual Farm-to-Table Benefit for the Arts. In response to the cancellation of in-person celebrations due to challenges and restrictions related to the COVID-19 health crisis, the Arts Council has transitioned this summer's dinner fundraiser to a Farm to Your Table event.
This year's 3-course, pick-up, heat & eat dinner will be prepared by local chefs Becky Herbert of the Farmhouse Café and Mike Fisher of Fisher's Catering and will feature locally-sourced, organic food and produce. Dinners will be available for pick-up at the Farmhouse Café in downtown Hollister from 2-5 pm on Sunday, July 19th. Each meal will include a surprise, a special gift hand crafted by a local artist.
All proceeds from dinner sales will support the Arts Council's Arts in Education Program, benefiting over 6,000 local students every year in San Benito County. The arts are needed now more than ever, and the Arts Council's ability to provide these programs depends on the generosity and philanthropy of our local supporters.
Dinner tickets are limited and $50/each. Wine is available and can be purchased separately. Dinner ticket sales end July 12th   and must be purchased prior to the event. Don't wait, dinner will sell out!  Get your tickets HERE.
This year's dinner includes:
Salad Course: Tuscan Melon & Heirloom Tomato Salad w/Basil & Balsamic
Main Course: Chicken Parmesan/ Vegetarian Option: Eggplant Parmesan with Pesto Pasta & Seasonal Vegetables
Dessert: Lemon Polenta Cake with Stewed Seasonal Fruit
*gf/vegan option available
Paired Wine Selections: Martin Ranch Sangiovese & Martin Ranch Rosé
Farm to Your Table 2020 sponsors: K&S Properties, Martin Ranch Winery, Brent Redmond Transportation, Pinnacle Organic, Mission Village Voice & Morris Grassfed
Event promotional artwork by Dylan Sandstrom.
Contact the Arts Council at info@sanbenitoarts.org for more info.