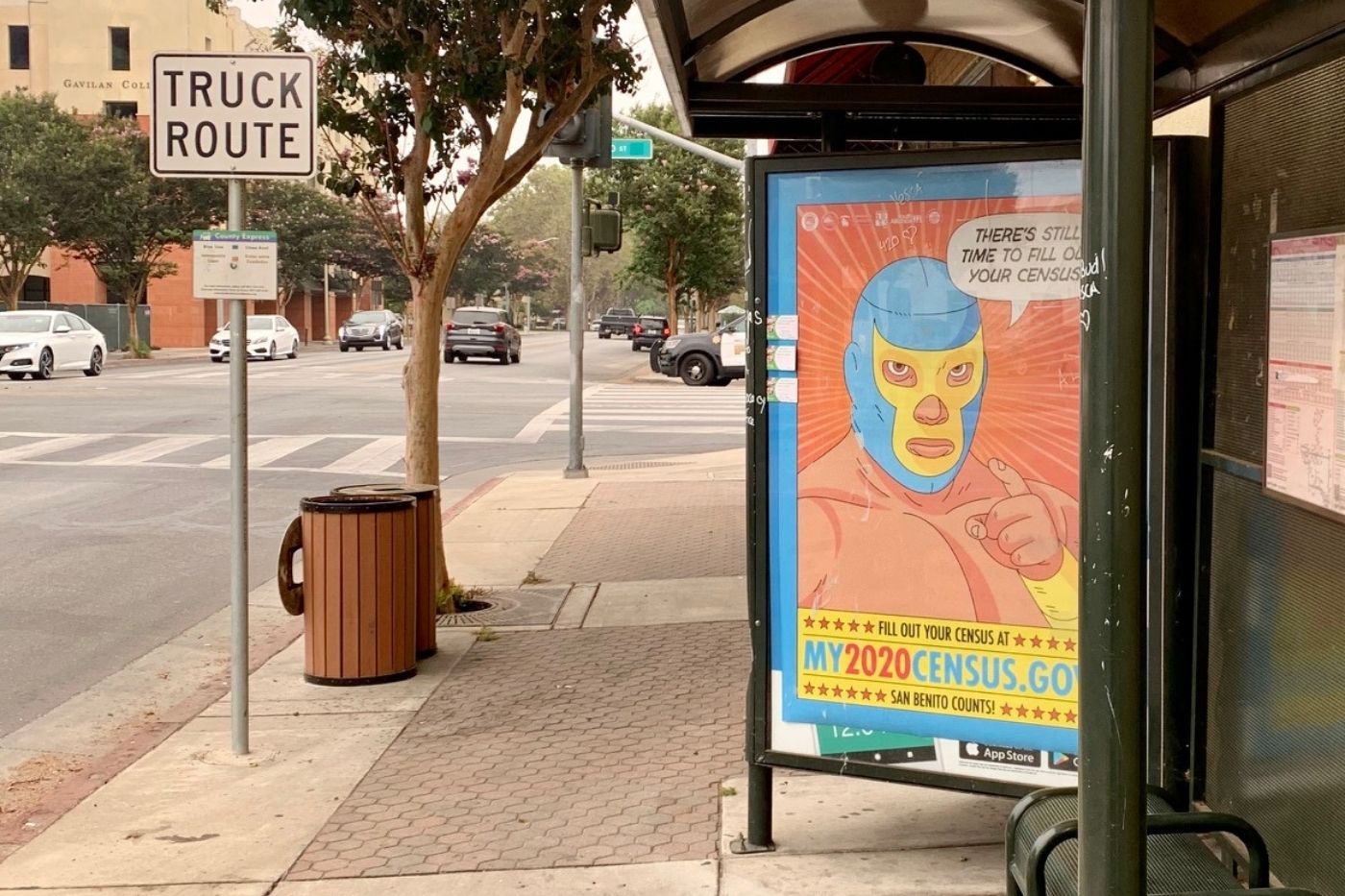 *Featured poster designs by artist, Bryan West, for the San Benito County Census Poster Project.
We are now accepting artist submissions for 2 countywide outreach campaigns as part of the ART in TRANSIT Project.
The San Benito County Arts Council seeks artists to create poster designs for 2 countywide, collaborative outreach campaigns, focusing on vaccine education and water conservation. Artist-designed posters will be displayed in county bus shelters, buses and other public building, storefronts and high-visibility areas.  The Arts Council, along with community partners, will commission up to 6 vibrant, artist-designed posters that support both campaigns.
CAMPAIGN #1- Vaccine Poster Project
The goal of the Vaccine Poster Project is to build trust in the safety and efficacy of the COVID vaccine; to combat vaccine misinformation and to sustain momentum in our County's efforts to vaccinate a substantial portion of our population against COVID-19.
Key Messages & Themes include:
Help communities across San Benito County have more confidence in the COVID-19 vaccine
Promote unbiased information about vaccines
Community health, through vaccination, is a road towards economic and cultural recovery
Empower yourself with information. Ask questions about the vaccine
Information is good for your health
Vaccination is a personal choice, but one that impacts your family and community too
Vaccination is a first step toward economic and cultural recovery
CAMPAIGN #2- Water Awareness and Conservation
On May 10th, Governor Newsom declared a drought emergency in San Benito County.  The Water Awareness & Conservation Poster Project will focus on key messages and themes to promote water awareness; build water resilience and encourage personal and collective water conservation.
Key Message & Themes include:
Water conservation is a way of life
Sprinkle wisely
Water at the right time
Monitor leaks
Grab a broom instead of a hose
Mulch soil
In a Drought Save Water Without a Doubt
No water, no future
None of us can make it rain, but we can all use less water
Don't be a fool, cover your pool
If you save water, water will save you
Be a pro, by conserving H20
Design Submission Requirements
Artists shall submit an original digital sketch or visual concept of their proposed poster design in JPG or PNG format. Submissions only need to be a mockup or sketch of the proposed design, there will be time for the selected artists to create their finalized design before the posters go to print. All submissions should be created in vertical orientation (portrait format).  Designs shall include space at the bottom at the posters for partner logos and must also include space for campaign hashtags.
Artists may submit up to 2 artworks per campaign (total of 4 if submitting to both campaigns). Artists are encouraged to submit artworks in both English and Spanish.
Please include a statement about the artwork that is 100 words or less.
Selected artists will be awarded $500 to create the winning designs. Artists may be awarded more than one commission. Final artwork must be submitted as a high-resolution file and meet final printing specifications (TBD).
Eligibility         
All California-based artists are eligible to apply. Preference will be given to artist applicants based in San Benito County.  Emerging artists and Spanish-speaking artists are encouraged to apply.
How to Apply
Please submit up to 4 original (a max. of 2 submission per campaign) digital sketches or visual concepts of your proposed poster design as JPG or PNG attachments along with a statement about the artwork that is 100 words or less, the statement can be included as an attachment or in the body of the email. Please email all submissions to sanbenitoarts@gmail.com.
DEADLINE FOR SUBMISSIONS:  5 PM, WEDNESDAY JUNE 9, 2021. Late submissions will not be considered.
Download the Request for Proposal (RFP).
Timeline:
June 9, 2021 – Artwork submissions due
June 14, 2021 – Winning artists notified
June 14- June 25th – Selected artists prepare final artwork files for printing
June 28, 2021 – Go to Print
July 1, 2021- Artwork Installation
Schedule subject to change. Please direct questions about the project to Jennifer Laine at info@sanbenitoarts.org or 831-636-2787.
The ART in TRANSIT Project is a collaboration between the San Benito County Arts Council, Community Foundation for San Benito County, County of San Benito, Council of San Benito Governments and the Water Resources Association San Benito County.