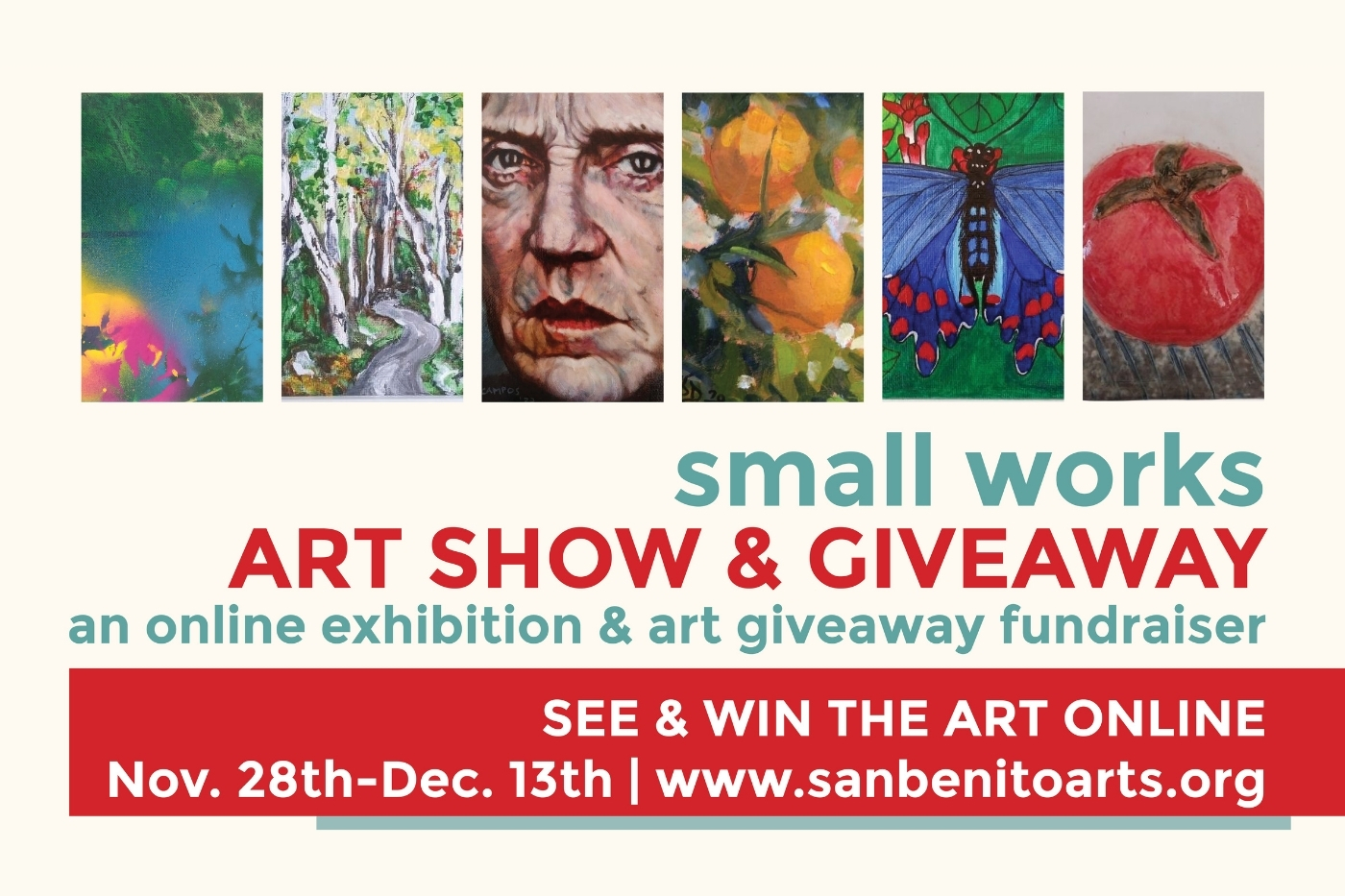 *Entries for our Small Works Art Giveaway are now closed.
The San Benito County Arts Council invites the community to view their newest exhibition, the annual Small Works Exhibition & Art Giveaway Fundraiser. The exhibition features original artworks, no larger than 7″x9″, created by over 30 local artists and includes paintings, ceramics & more.  This year's event can be enjoyed and celebrated online HERE.
In addition to viewing the work, supporters & art lovers can win a piece of art by making a donation and selecting artworks of their choice. For every $5 donation, donors will be entered into a drawing to win one of their favorite pieces. The art giveaway closes on Sunday, Dec. 13thand winners will be announced on Monday, Dec. 14th, just in time for the holidays! To enter the giveaway, supporters can make a donation directly at the online exhibition page.
How to participate
1. View the Small Works Exhibition online HERE.
2. Have a pencil & paper handy to note which artwork(s) you'd like to be entered to win.
3. Make a donation by clicking on any of the orange "Donate & Win" buttons.
4. Select your favorite artwork(s) when checking out. *Every $5 donation will be counted as an additional entry. Donate to as many pieces as you'd like! Donations for entry into the Art Giveaway close at 8pm on Sunday, Dec. 13th.
5. On Dec. 14th, we'll randomly select a supporter as the winner of each piece. Winners will be notified and arrangements will be made for artwork pick-up.
The Small Works Exhibition & Art Giveaway is part of the Arts Council's end of year Art of Giving campaign raising funds in support of their local Arts in Education Programs. Other Art of Giving events include the Art of Eating: Pick-Up Dinner for the Arts, Dec. 11th, and #GivingTuesday, Dec. 1st. All proceeds from these events will be used to purchase arts supplies and musical instruments for distribution to students enrolled in Hollister, San Juan Bautista, and Aromas schools.
 The Arts Council would like to thank this year's participating artists for their generous donation of artworks and continued support of our Arts in Education Programs.
 Featured artists include: Dylan Sandstrom, Glynis Crabb, Dan Campos, Danae Parra, Stephanie Skow, Dane Skow, Sylas Jumper, Julianna O'Hara, Jane Rekedal, Andrea McCann, Trudi Burney, Kati D'Amore, Bobbie Brainerd, Kent Child, Cindy Couling, Laurie Tholen, Victoria Murray, David Guiterrez, Keith Bonner, Jennifer Power, Sally Diggory, Dar Brenneise, Louise Roy, Sarah Sendejas, Clay Peer, Linda Jan Wynne, Maureen Serafini, Larry Gerbrandt, SanDee Adams, Rhoda Bloom, Mike Self, Adam Valentino, Margie Minogue, Bonnie Parodi, Vicky Burke, Courtney Day
For more information on this event, please  contact us at 831.636.2787 or at heidi@sanbenitoarts.org.